Associate Spotlight
Associate Spotlight: Cedric Davis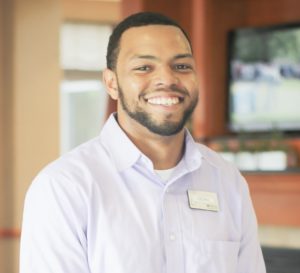 Meet Cedric. Cedric started with Musselman Hotels in 2017 at the Hilton Garden Inn Louisville Airport, as a Guest Service Associate. He was quickly promoted to Front Office Supervisor and then Assistant Executive Housekeeper. In December 2018, Cedric was promoted to the Assistant General Manager at the Residence Inn Louisville East Oxmoor.
Cedric met his Fiancé Rachel while both working at the HGI. He is a devoted father of two and loves spending time with his family and friends and a game or two of basketball. He loves to volunteer with Youth Services, and always seems to find time to help his family and friends, no matter what it may be, he carries his "I can attitude" into everything that he encounters.
Thank you for your dedication Cedric, we appreciate you!