News
Cooper Musselman competing in Barbasol Championship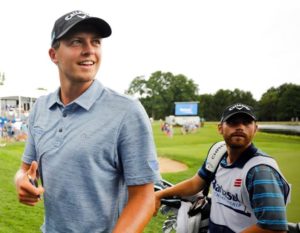 We are thrilled to once again cheer on Cooper at the Barbasol Championship, set for July 18-21 at Keene Trace Golf Club. Last year's event marked the first PGA Tour event in decades in the state of Kentucky. The tournament will carry a purse of $3.5 million and award 300 FedExCup points to the champion.
Musselman helped lead the Wildcats to an NCAA Championship appearance twice during their tenure, including a Regional appearance in each of the last three seasons. They combined for nearly 100 career starts, 130 par-or-better rounds, 25 top-10 finishes and 45 top-20 finishes.
Musselman, a Louisville, Kentucky, native shot a career average of 72.91 over 129 rounds. He led the Wildcats his senior season in stroke average (72.08), par-or-better rounds (21) and top-10 finishes (4). An individual win at the Crooked Stick Intercollegiate marked a season-high for Musselman. He also carded career-low rounds (67) and 54-hole tournament scores (207).
We are so proud of you Cooper and are SO EXCITED to cheer you on!